Junction Moama Reopens!
Back in business with intimate lunch + dinner services from Thursday 28 May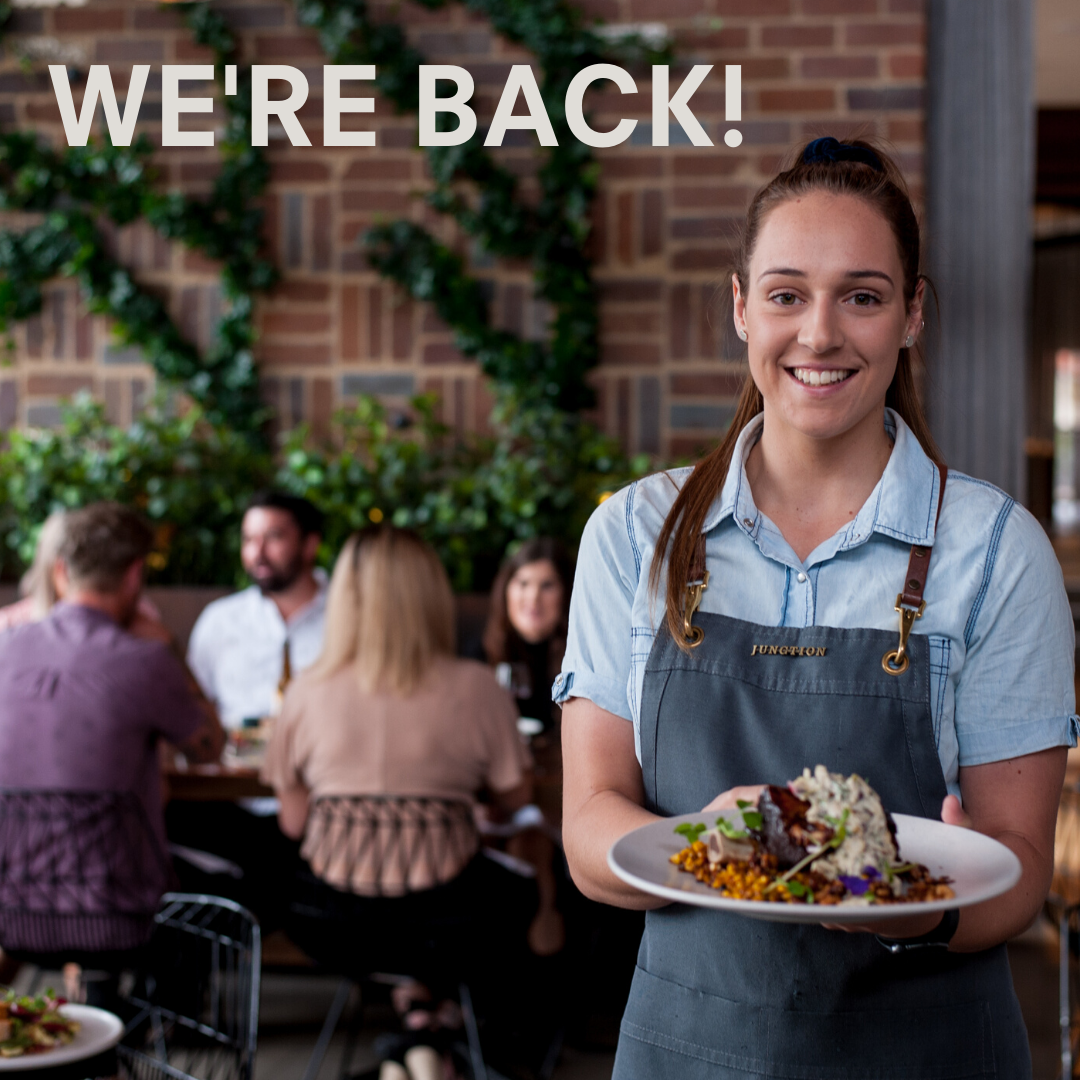 After what feels like an eternity, we can announce with great excitement and joy that we are reopening! Things might not be 100% back to normal quite yet, however we are so happy to be taking these baby steps back to normalcy – we've missed you all!

As per the NSW Government's restrictions our current service offer is as below:
– Trading dates and available seatings:
Thursday + Friday – 6pm – 7.45pm | 8pm – 10pm

Saturday – 12pm – 1.45pm | 2pm – 3.45pm | 6pm – 7.45pm | 8pm – 10.30pm

Sunday – 12pm – 1.45pm | 2pm – 3.45pm
– Up to 10 people maximum at each sitting
– Set menu + beverage package
– Entrance to Junction Moama is through the separate Birdcage Entrance (off Shaw Street) and off-street parking available there
– Sanitising processes and social distancing measures in place
– Bookings essential and must be made online
Our special set menu is five dreamy courses served individually, and you have the option to add our bespoke beverage package – where each course is matched perfectly with a wine chosen to enhance the flavours of the dish.
Not drinking? We have a package designed for you too – for $10 per person you have access to unlimited sparkling water, soft drinks and juices.
Junction Set Menu – $100 per person with matched beverage package | $89 per person with non-alcoholic beverage package | $79 per person food only
Amuse Bouche: Tempura oyster, bell pepper and chilli jam, caviar, wakame, crispy betel leaves

Entrée: Lamb kibbeh, baba ghanoush, coriander crumb, flat bread

Potage: Pumpkin, asparagus and goat cheese ravioli, artichoke veloute, beurre noisette

Main – your choice of: Beef eye fillet, potato confit, Dutch carrots, green pea puree, black garlic, Bordelaise sauce

OR

Sous vide chicken breast, soft polenta, buttered asparagus, truss tomato, pesto foam

Dessert: Chocolate fondant, peanut brittle, popcorn ice cream
Head to our Reservations page to book now – spaces are limited and walk ins are not accepted at this stage.
IMPORTANT Terms + Conditions:
Please note that certain dietary specifications may mean that the above menu is not suitable for you or your guest/s.
Vegetarian set menu available.
To find out whether this may affect your dietary requirements, email the team at info@junctionmoama.com.au for more information.|

Menu subject to minor alterations without notice.
Any additional beverages ordered on the night will be charged at bar prices.
Junction Moama will be strictly adhering to Social Distancing measures, and we reserve the right to refuse entry to any patrons showing signs of being unwell.

Sign in requirements still in place, please ensure you bring your licence.
Please adhere to booking times and arrive punctually, as the sittings must turn over at their allocated times, as noted above.

Junction Moama is an over 18 venue AT ALL TIMES.