Featured Artisan- May
Murray River Gourmet Salt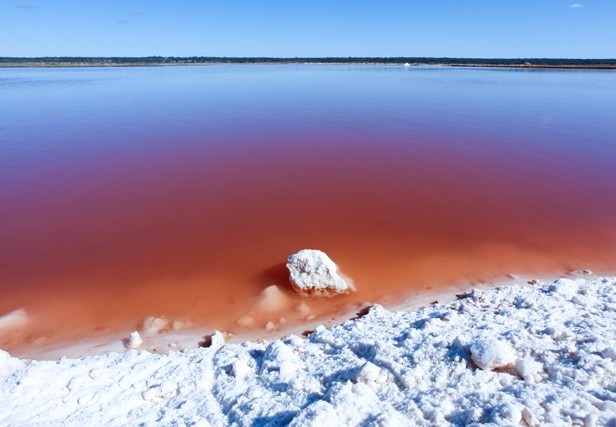 1. How long has Murray River Gourmet Salt been operating? Since 2001
2. How did Murray River Gourmet Salt get started? What was the inspiration? The owners were frustrated that they couldn't find any Australian gourmet salt products and reluctantly had to buy salt from Europe.  They set about to develop a gourmet salt product and developed Murray River Gourmet Salt Flakes in 2002.  Many chef's switched from European salt to Murray River Gourmet Salt Flakes and the rest is history!
3. What did the founders do previous to starting Murray River Gourmet Salt? Back in the 80's they began a salt operation in Hattah, Victoria.  This site is still running and supplies raw industrial salt to various industries.
4. Why Salt? Many people don't realise that there is a large underground aquifer that is saltier than the sea and wants to leak into the Murray River.  Murray River Salt is proud to work with the government's salt interception scheme to fight the effects of salinity and turn a problem into a product.
5. Is there a specific dish you would recommend to use Murray River Gourmet Salt rather then regular salt?? Murray River Gourmet Salt Flakes can be used in place of regular table salt.  Use our salt flakes in cooking or as a finishing salt for your dish.    Particularly good with steak, seafood or sprinkled on a green salad.  Murray River Gourmet Salt Flakes actually contain natural minerals (that's why it's pink) and are not processed in any way like table salt which has anti-caking agents and bleach to make it white. 
6. What's your number one tip for the ultimate Murray River Gourmet Salt experience? Place a small amount of salt flakes in a pinch bowl and let guest grab a pinch and sprinkle on their own dish.  Many enjoy our flakes with a good quality, freshly baked bread and Australian olive oil – the simple things in life are often the best!
7. Where would you take a visitor for an essential country Victorian experience? We would showcase Mildura by taking our visitor on a paddlesteamer cruise on the mighty Murray River followed by a gourmet lunch at Trentham Estate.  In the afternoon we would visit some local wineries and Mildura Brewery to try the local beers and Stefano's antipasta, before retiring to one of the many great restaurants serving up local produce in Feast Street (Langtree Avenue).
8. If you could visit any city for a day's eating and drinking experience, where would it be and why?  San Sebastian in the Basque region of Spain – a foodie mecca and renowned for its tapas.
9. What other local artisans or Salt producers do you admire? Why? We admire so many food producers in the Mildura region such as Tabletop Grapes, Robinvale Estate, Stefano's Preserves to name a few.  They do an amazing job of presenting local produce in a myriad of product options which showcase the premium quality of the food from this region.
10. If you had to choose your last meal, what would it be?  Entrée would be local figs with a rocket salad, main would be an eye fillet steak from Naz Tassone's butchery served alongside Murray River Salt roasted potatoes and steamed local asparagus with hollandaise sauce, washed down with anything from Trentham Estate winery!  Dessert would have to involve something citrus like a lemon tart as a nod to the amazing citrus from Mildura.