Featured Artisan
Bundarra Berkshires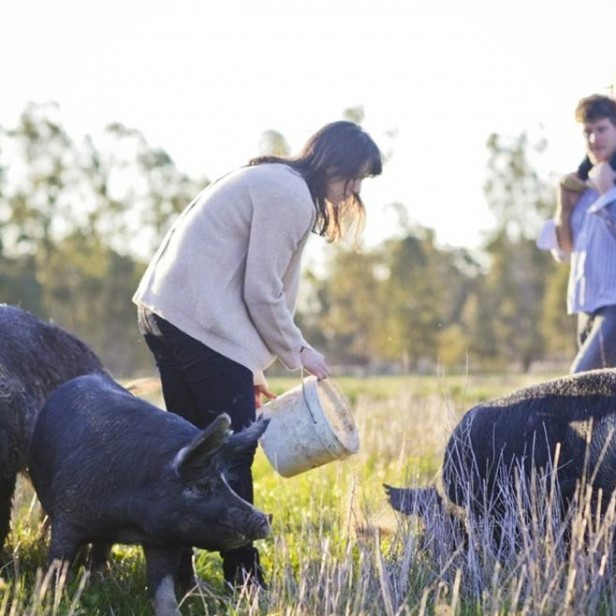 1. How long has Bundarra Berkshires been operating?
Since December 2010. 
2. How did Bundarra Berkshires get started? What was the inspiration?
It all started when I couldn't source good quality heritage free range pork when I owned the Long Paddock Food Store in Koondrook. I knew I would end up farming being a 6th generation farmer in the district, but I never thought I would end up farming pigs. After a trip to France and seeing the charcuterie they make from Pork I became slightly obsessed. 
3. What did the founders do previous to starting Bundarra Berkshires? 
I co-owned the Long Paddock Food Store in Koondrook and previously worked as an Environmental Project Officer for Murray Irrigation. My husband Lachy still runs the family transport business in Barham. 
4. Why Pork?
Pigs inspired me in France, they are super resourceful they are good for the paddocks and then we use every single bit in the butchery. They are very intelligent and we get to know all the pigs after a while, so it's a very personal experience farming them for meat. We also sell breeding stock to other breeders.   
5. Is there a specific dish or way you would recommend to use Bundarra Berkshires Pork, or other products?
Always undercook and then rest fresh pork cuts. The worst mistake anyone can do is to overcook pork, it is a succulent juicy red meat and should be respected. Our charcuterie is best eaten at room temperature. 
6. What's your number one tip for the ultimate pork experience?
Dry out crackle in the fridge overnight then use good sea salt and no oil to roast at a high temp. Cook shoulders for 12 hours on super low for the maximum flavour and texture effect.
7. Where would you take a visitor for an essential country food experience?
I'd take them along the Backroads Trail to visit real framers and experience their farms and the food and wine they produce. Its a tasty way to explore the country and you will meet the friendliest people (and probably get a job if you stay too long!).
8. If you could visit any city for a day's eating and drinking experience, where would it be and why?
Melbourne… the best food and coffee in the world, lots of local foods on menus. 
9. What other local artisans or producers do you admire? Why?
Restdown Wines at Caldwell. They produce some beautiful wine in a tough environment using traditional methods and their farm is beautifully managed for its native aspects. They have diversified into Organic Beef and verjus, both of which I can't live without. I love visiting their farm, its tranquil and unassuming and such a lovely place to relax
10. If you had to choose your last meal, what would it be?
Roast pastured chicken with tarragon, pancetta and verjus, buttered greens and paris mash.