Featured Artisan
Fred Siggins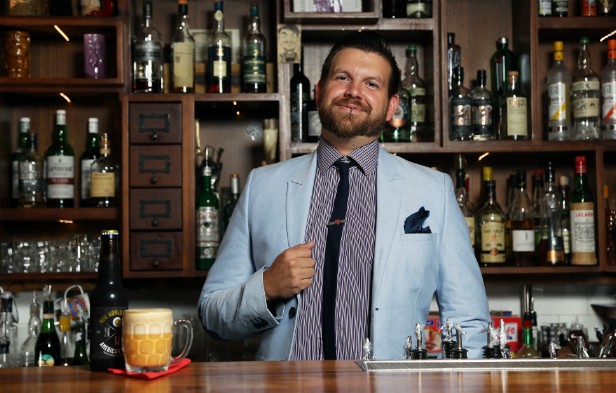 Fred Siggins, senior bartender at Black Pearl in Melbourne & whisky expert for The Humble Tumbler, shares his passion and expertise with us this month for our artisan feature. Voted in to the Top 100 most influential people in the bar industry in Australia, Fred boasts an extensive knowledge of whisky, cocktails and their origins, tastes and tales. He is also the brains behind Junction's unique cocktail menu and will be the host of our Whisky Masterclass on October 11th.
How long have you been in the bartending trade?
I've been bartending for 7 years, but I've been working in hospitality for 18 years now.
What was the inspiration?
I started out in the kitchen, and moved to the bar because I wanted a more flexible schedule, and more social interaction as part of my job. In the bar there's this feeling of instant gratification when someone enjoys a drink I've made, and I get to talk to an amazing cross section of humanity.
What did you do previous to bartending?
Before I started bartending I was a chef, an English teacher, a human rights advocate and a photographer. I also have a degree in Political Science. I've done a lot of different stuff, but I always come back to hospitality.
Is there a specific beverage that has always caught your eye?
For the most part, I'm an equal opportunity drinker. I love beer, wine, sake, everything.  But cocktails and whisky have always had a special place for me. Cocktails because of what they represent culturally and creatively, and whisky because I'll never run out of different drams to try, and every bottle holds a unique story and flavour.
What's your number one tip for the ultimate whisky drinking experience?
Find a bottle you know you'll enjoy, pop it open with friends, and take the time to enjoy it and each other's company. Whisky isn't about the best and rarest bottles or the most opulent setting; it's about slowing down and sharing a moment with mates.
Where in Australia would you take a visitor for an essential whisky experience?
The Baxter Inn in Sydney would have to be one of the best places in Australia, if not the world, to drink whisky. It's loud and fun and the selection is amazing. Here in Melbourne, I always take folks to Whisky and Alement for a quiet dram because the crew there are knowledgeable and friendly and will always take the time to have a chat. But for the essential experience, I don't think you can beat a tour of the distilleries of Tasmania.
If you could visit any city for a day's eating and drinking experience, where would it be and why?
I've never been to Tokyo, so it's right up there. They've got some of the world's best bars and restaurants, and I love Japanese food, sake and especially whisky.
What other local artisans do you admire? Why?
I have a huge amount of respect for Clare Burder from Eminence Wines and The Humble Tumbler who has built a fantastic brand of wine and a totally original wine, sake & spirits appreciation business. I also love the guys from Tequila Tromba, and from New World Whiskies (Starward) for driving the home-grown spirits industry and creating products that represent Melbourne and what's great about our bar scene.
If you had to choose your last meal, what would it be?
My last meal would have to be my mother's chicken soup. Or a swimming pool full of Scotch.