Featured Artisan- March
Maddie Sharrock from Studio Twocan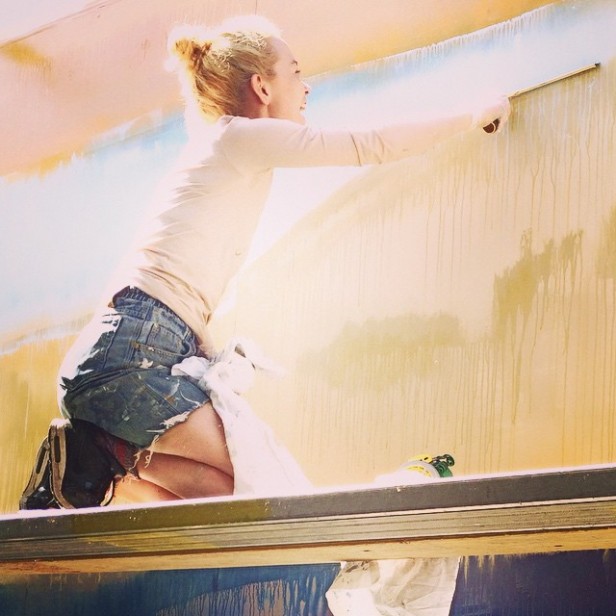 Meet Maddie Sharrock, the amazing creator behind Junction's imagery.
How long has Studio Twocan been operating?
The business was established two years ago, but we've been working together ever since we were little tuckers. I guess we'd consider ourselves in the early stage of operations, but we're quickly establishing a name for ourselves in Melbourne's creative industry.
How did Studio Twocan get started? What was the inspiration?
Being sisters, we have shared a keen and life-long interest in creativity, but our chosen paths have lead us in different directions. Becc – described as direct, organised and pragmatic – has a career within the graphic design realm, and has worked at various prominent design studios throughout Melbourne. Maddie (me) – the impulsive and shameless younger sister – holds a keen interest in fine arts and has pursued a career in art production and is a passionate craftsman.
We have always helped each other out on our individual projects whether that be sewing costumes for a high school play, offering an outside perspective on graphic design or just moral support when the pressure is on. We decided to start working together because we work so well together. And we were inspired to create Studio Twocan because we wanted to offer a service that involved art and design.
How would you sum up your approach to design?
As they say, it takes two to tango, so we now embark on collaborative projects to highlight the power of shared skills and knowledge – to challenge the way we design, create, make and experiment. Our process achieves an innovative link between design and art, with a single focus to produce beautiful and meaningful work.
Where do you draw your inspiration from?
Well for example, Junction vases (designed by me).The Junction vases were inspired by the muddy banks of the Murray River. We wanted to emulate the Earth's natural beauties, referencing aerial views of the Australian outback. It was very process driven work meaning each direction was a response to the last action. We had no idea how the vases would turn out. The artisan in us takes inspiration from experimenting and getting our hands dirty. The designer is us takes inspiration from beautiful concepts and compositions.
What's one of the most obscure jobs you've ever worked on?
Currently we're making a cement lampshade that weighs 50kg, which seems absolutely ridiculous. It's a design we're formulating with Iva Foschia from If Architecture. Unfortunately that's all we can tell you for the time being, as it's a bit hush hush… so you'll have to follow us to see how it turns out.
Where would you take a visitor for an essential Melbourne or Victorian experience?
This is a very hard question to answer as we don't want to sum-up Melbourne by showing a visitor only one part of it. The beautiful thing about our home city is the variety.
When we have visitors we usually meet them at Little King Café under St.Paul's Cathedral. After a coffee and a morning snack, we would then head over the Yarra to National Gallery of Victoria followed by a visit to Federation Square to see a wonderful Indigenous Art Collection. The rest of the day would be spent wandering about the city, working into artist runs spaces (like Forte Delta, West Space and TCB) and commercial galleries (like Anna Schwartz and Tolarnos). For lunch, we might take them for a cheap feed at Shandong Mama; the best dumplings in the city and in the evenings we would head 'Northside' to see whats going on. If it was a Thursday night and we were on bikes, we would then ride around to the different exhibition openings and launches that pop up around that neighbourhood. The evening would not be complete without a visit to Lazorpig for a pint and a pizza.
We're being very selective here but you have to be when you have such little time to show someone around.
Also we must say that a must see in Victoria is Wilson's Prom. But again, it's very hard to choose just one place.
If you had to visit one city for a day's eating, drinking and art experience, where would it be and why?
Being huge fans of refined craftsmanship, art and delicious food, we'd have to say Tokyo. It's a wondrous city, that offers the whole kit and caboodle.
What are you working on at the moment?
Other then a 50kg lampshade, we're building our website to showcase the cement ceramic collection. It launches on the 17 of March, so be sure to visit and check out our range.
What was your favourite thing about working with Junction?
How wonderfully open minded and switched on the team is. They have a great attention to detail, which was experienced at the launch party in November. Enjoying some great food and wines taates, we felt like a million bucks.
It's also been a great opportunity to reunite with the region. We've loved our visits, which reminds us of our childhood Summer holidays. Last time I was there I went for a swim in the Murray. The mud between our toes took me way back.