Junction gathers steam
A few months on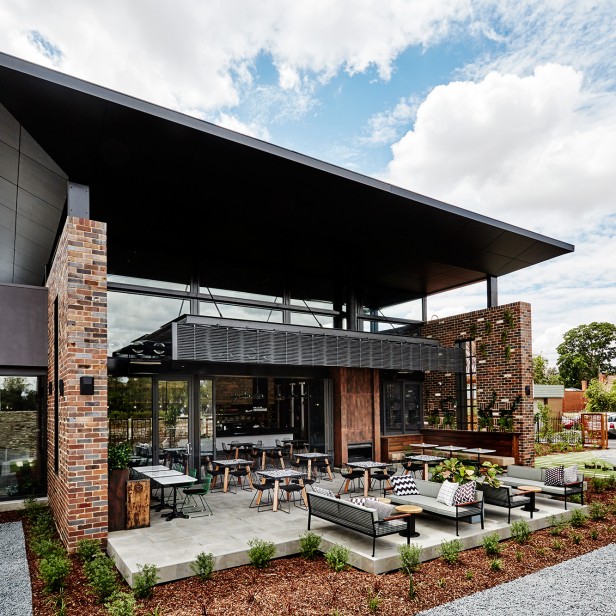 JUNCTION GATHERS STEAM
Junction opened its doors in just December last year, but as a venue describing itself as "a gathering place celebrating the region's finest" they're already appealing to visitors and locals alike.
Step into Moama's latest dining and drinking establishment and you'll be walking on beautiful bluestone tiles, alongside walls of rough repurposed brickwork; you'll lounge in modern designer furniture lit by industrial light fixtures and admire the recycled fruit crate bar while you take in the modern bespoke murals. And that kind of contrast is all part of the plan. The plan to be a meeting place ­– in more ways than one.
This is a place where everything just comes together – in this case, both in name and nature. Junction is a place where the industrial meets the gentle, the rustic meets the modern, relaxation meets sophistication and where heritage meets contemporary – and so far, it seems to be a place that meets and exceeds all the expectations of those who visit the region looking for something wonderful.
The Echuca Moama region's influence on Junction is obvious and the Murray River's history seems to flow through the entire building. From the name – an homage to the Junction Inn established nearby in 1847 by town founder and local legend James Maiden – to the commissioned concrete vases designed by artist Maddie Sharrock and inspired by the layers of stone, sand and sediment that make up the Murray River. The river's importance to the region and to the venue itself may be obvious but nowhere is the region's character more on display than in the kitchen itself.
When you fancy something a little more liquid – and trust me, you will – Junction's comprehensive drinks list combines premium wines and boutique beers, with an impressive and hand-picked selection of local Victorian varietals and craft brews. When you're ready to shake it up (pardon the pun), there's also an exciting line-up of cocktails boasting fresh fruits and herbal flavours.
Whether it's the food or the drink that gets you together, it's worth gathering at Junction. For a building that can accommodate large functions as well as intimate dinners or cocktail parties, it can still feel like a tranquil dining and drinking escape with cosy seating pockets, a cocktail lounge, wine room as well as an inviting outdoor terrace overlooking lush gardens and water ponds – complete with a fire pit.
It's a brand new experience for locals and an exciting way to share a little of that local flavour with the region's visitors. Stylish, elegant and inviting – inside and out – Junction is destined to become a favourite during the day and long into the evening.